Gottsegen 62 New Energy Catamaran Limited Edition
Gottsegen 62 新能源双体船 限量版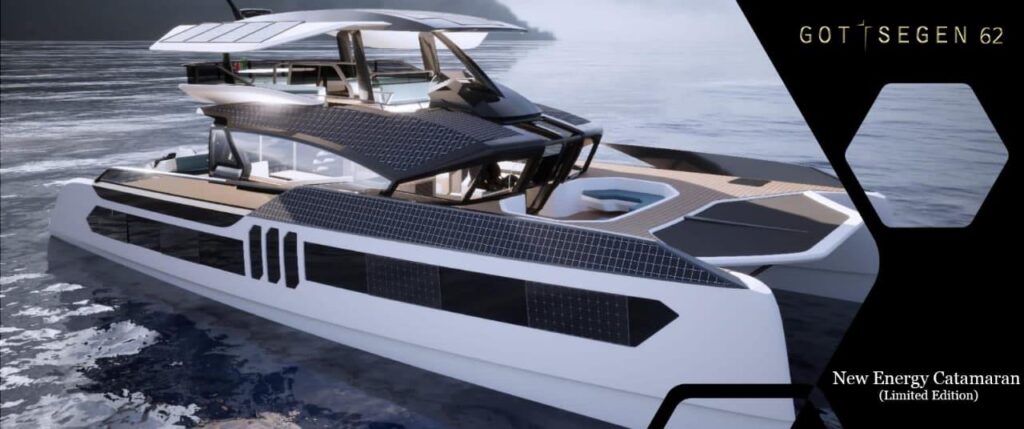 General Description
Gottsegen 62 New Energy Catamaran is pure electrically designed with solar panel for comfort ability and
attempted as a New Dimension of Nautical Tranquility in the yachting industry.
She is fully sustainable pure-electric yacht featuring a clean elegant design with straight line and a spacious
interior, which shall accommodate up to 24 guests and a crew of 2 members. An additional crew cabin shall be
built upon owner's further request for privacy purpose, subject to availability of lower deck space.
Gottsegen 62 is equipped with two large master bedrooms attached with individual bathroom at lower deck.
There is a large size party lounge area in the front and the main saloon at the back, delivering a stunning sea views at the upper deck.
The China-based manufacturer's partnership with Gottsegen Yachts, boast to its new-energized catamaran
offering relaxation and tranquility cruising over the new horizon of sun-rise and sun-set around the nearby
islands.
*Thanks to its 360 degree pot-drive with twin electric propulsion system. Gottsegen, which consist of two 100
kW electric motors, a 200 kWh battery, and a 60 kW DC generator. Its Power system consists of two 100 kW
electric motors, a larger, 400 kWh battery, and a 100 kW DC generator. While the Cruise propulsion system
allows the catamaran to reach a top speed of 10 knots, the Power one boosts that speed to 12 knots.
Optional Kite-Propulsion System shall be added for higher speed up to 14 knots, upon customer's request.
*48 Lithium Lion Prosphate 4 solar panels are integrated into the roof of the catamaran, generating 19.2 kWp
of solar energy. Proprietary cooling system will be installed for giving an energy boost of 10 to 15 percent.
SAFETY FIRST: Please note that Gottsegen 62 is equipped with the most robust & reliable LiFeO4 battery, which
is better than normal lithium ion type, because it has the edge over lithium ion, both in terms of cycle life
lasting 4-5 times longer and safety. This is the key advantage due to lithium-ion polymer battery can overheat
and even catch fire, while LiFeO4 does not. Even the best entertainment on the water must be ensured with
safety combined.
一般说明
Gottsegen 62 新能源双体船采用纯电动设计,配备太阳能电池板以提高舒适性,并尝试作为游艇行业航
海宁静的新维度。
她是完全可持续发展的纯电动游艇,采用简洁优雅的直线设计和宽敞的内部空间,最多可容纳 24 位客
人和 2 名船员。应船东出于隐私目的的进一步要求,应根据下层甲板空间的可用性,建造一个额外的船
员舱室。
Gottsegen 62 配备了两间大型主卧室,在下层甲板上设有独立浴室。前面有一个大型派对休息区,后面
是主沙龙,在上层甲板上可以欣赏到壮丽的海景。
这家总部位于中国的制造商与 Gottsegen Yachts 的合作伙伴关系,以其新能源双体船在附近岛屿周围日
出和日落的新地平线上巡航提供放松和宁静而自豪。

这家总部位于中国的制造商与 Gottsegen Yachts 的合作伙伴关系,以其新能源双体船在附近岛屿周围日
出和日落的新地平线上巡航提供放松和宁静而自豪。
*得益于其带双电动推进系统的 360 度旋转驱动。 Gottsegen,它由两个 100 kW 电动机、一个 200 kWh
电池和一个 60 kW 直流发电机组成。它的动力系统由两个 100 kW 电动机、一个更大的 400 kWh 电池和
一个 100 kW 直流发电机组成。 Cruise 推进系统允许双体船达到 10 节的最高速度,而 Power one 则将该
速度提升至 12 节。
根据客户的要求,应添加可选的风筝推进系统,以实现高达 14 节的更高速度
*48 Lithium Lion Prosphate 4 太阳能电池板集成到双体船的屋顶,产生 19.2 kWp 的太阳能。将安装专有
的冷却系统,以提高 10% 至 15% 的能量。
安全第一:请注意,Gottsegen 62 配备了最坚固可靠的 LiFeO4 电池,优于普通锂离子电池,因为它在循
环寿命长 4-5 倍和安全。这是关键优势,因为锂离子聚合物电池会过热甚至着火,而 LiFeO4 则不会。即
使是最好的水上娱乐活动也必须与安全相结合。
Highlights
*Unlimited range; 5 year warranty of hull & GRP parts; 2 year warranty of general fitting & finishes;
Zero maintenance & 25-year warranty of the photovoltaic module Solar panels; Zero maintenance &
10 year warranty of Lithium LiFeO4 Batteries; Zero maintenance & lifetime warranty of electric motor;
Noiseless & fume-less; Fuel-bill-less; Marina electric-bill-less; Environment-friendly with an inspiring
sunrise and a breath-taking romantic sunset, while cruising on the water !
*Gottsegen Yachts has good relationship with China Yacht Builder who has established with China
most reliable energy & drivetrain upgraded battery technology such as Reluctance Assisted
Permanent Magnet (SRPM) system, as well as the Pod Thruster propeller system.
强调
*无限范围;船体和 GRP 部件 5 年保修;一般装修和饰面的 2 年保修;光伏组件零维护&25年质保;
LiFeO4 锂电池零维护和 10 年保修;电机零维护,终身保修;无噪音、无油烟;无燃油费;码头无电费
;环境友好,令人振奋的日出和令人叹为观止的浪漫日落,同时在水上巡游!
*Gottsegen Yachts 与 China Yacht Builder 建立了良好的关系,后者与中国建立了最可靠的能源和动力传
动系统升级电池技术,例如 Reluctance Assisted Permanent Magnet (SRPM) 系统,以及 Pod Thruster 螺旋
桨系统。
Technical Specification
The Gottsegen 62 is 18.90 meters cruising new energy catamaran with a standard 2 guest cabins and the draft of 0.92
meters which can reach up to 12 knots. This catamaran is built with fiberglass / grp hull has CCS Certification.
Length : 18.90 m / 62′
Beam : 9.00 m / 29′ 6″
Draft : 0.92 m / 3′ 5"
Tonnage
Displacement, 30t (full load)
Fuel capacity, 500 l
Water tank, 1000 l
Wastewater tanks; 2 x 500 l
Passenger capacity
Max people: 6-24
Cabins: 2 -4
Berths for guests: 4-8
Bathrooms: 2-4
Crew: 2
Solar Panel & Power
Estimated 48 panel and 19.2 Kwp with Energy Harvest with approximately 120Kwh / day.
Battery Capacity
180-360 Kwh
Engines and performance Engine options
Pod drive: 2 x 100-250 kW
Cruising Speed: 6-8 knots
Max Speed: 10-12 knots
DC Genset: 60 – 100 Kw
Classification
CCS Certified (CE Certification is available upon request)
Hull type – Catamaran
Hull material – Fiberglass / GRP
Design – Modern Concept -Designer motor yachts
Manufacturer's data: China Yacht Designer & Builder for Gottsegen Yachts, Singapore.
技术规格
Gottsegen 62是一艘18.90米的巡航新能源双体船,标准2客舱,吃水0.92米,可达12节。这艘双体船采用玻璃纤维/grp 船体建造,
具有 CCS 认证。
长度 : 18.90 m / 62′
光束:9.00 米 / 29′ 6″
吃水深度:0.92 m / 3′ 5"
吨位
排量, 30t(满载)
燃料容量,500 升
水箱, 1000 升
污水池; 2 x 500 升
载客量
最多人数:6-24
客舱:2 -4
客人泊位:4-8
浴室:2-4
船员:2
太阳能电池板和电源
估计有 48 个面板和 19.2 Kwp 能量收集,大约 120Kwh/天。
电池容量 -180-360千瓦时 发动机和性能
引擎选项
Pod 驱动器:2 x 100-250 kW
巡航速度:6-8节
最大速度:10-12 节
直流发电机组:60 – 100 Kw
分类 – CCS 认证(可根据要求提供 CE 认证)
船体类型 – 双体船
船体材料 – 玻璃纤维 / GRP
设计—现代概念, 设计师机动游艇
制造商数据: 新加坡 Gottsegen Yachts 的中国游艇设计师和建造商。
Lay-Out 布局
Cockpit and Crew Compartment 驾驶舱和乘员舱
Guest Bedroom and Bathroom 客房和浴室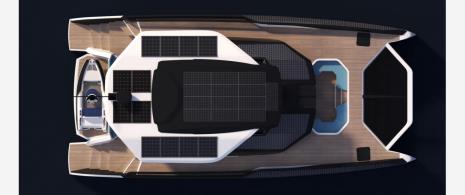 Schematic Diagram of the Power System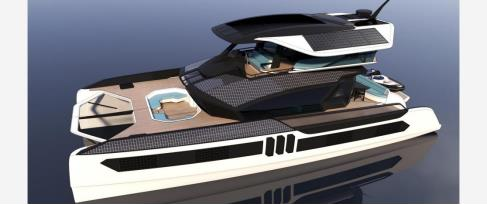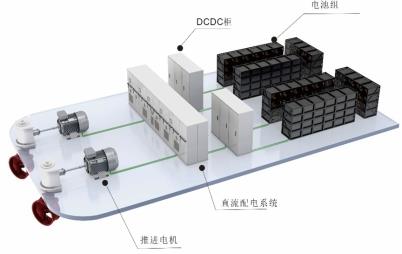 Power System Schematic
Hull Structural Materials
Manufactured by glass-fibre-reinforced plastic vacuum adsorption process, the hull, superstructure, structural
bulkhead, deck, deckhouse, and columns are all constructed of non-combustible materials or fire-resistant
materials with sufficient structural performance, and the fire-resistant materials meet the requirements of FSS
regulations.
船体结构材料
采用玻璃钢真空吸附工艺制造,船体、上层建筑、结构舱壁、甲板、甲板室、立柱均采用具有足够结构
性能的不燃材料或耐火材料建造,耐火材料符合 FSS 规定的要求。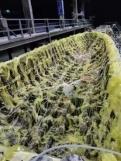 Fire Separation
The battery compartment is enclosed by fire-resistant partitions, and its bulkhead and deck adopt A60 fire-resistant and flame-retardant structure. The selected fire-resistant cotton is tested in accordance with the
relevant requirements of FSS regulations and has a structural fire-resistant time of at least 60 minutes.
防火隔离
电池舱采用防火隔板围合,舱壁和甲板采用A60防火阻燃结构。选用的防火棉按照FSS法规的相关要求进
行测试,结构耐火时间至少为60分钟。
Program Layout
Installed in a dedicated battery compartment.
The smallest detachable unit is 96kg.
Satisfaction
Minimum height of sheet battery compartment: 2.3m, height of unilateral battery pack: 1.035m
Sheet battery compartment width: 1.5m, single side battery pack width: 0.66m
节目编排
安装在专用电池仓内。
最小的可拆卸单元为 96 公斤。
满意
片状电池仓最小高度:2.3m,单边电池组高度:1.035m
片状电池仓宽度:1.5m,单面电池组宽度:0.66m
Hull Colour-Selection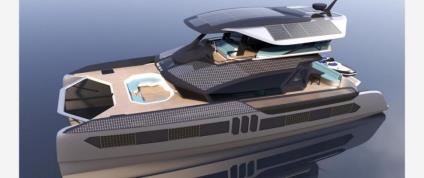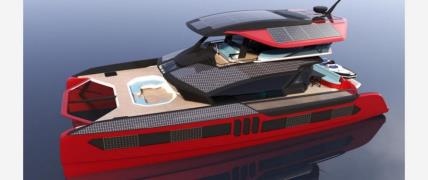 Battery compartment layout 电池仓布局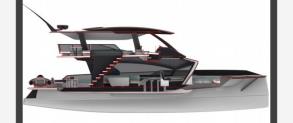 Requirements
Batteries with a total storage capacity greater than 200kWh shall be installed in the battery
compartment or in the battery box (cabinet) on the open deck.
For ships with a length of less than or equal to 20m, the weight of the minimum detachable
unit for quick maintenance of any battery shall be less than or equal to 130kg.
When the propulsion batteries are arranged in the cabin, they shall be separately arranged
in at least two dedicated cabins.
The clear distance between the battery box (cabinet) or the battery pack and the bulkhead
and the upper deck shall not be less than 150mm, and the clear distance from the bulkhead
and the upper deck reinforcement structure shall not be less than 100mm.
The minimum horizontal distance from the battery box (cabinet) and the battery pack to the
outer shell and structure of the hull is not less than 300mm, and the minimum horizontal
distance to the inner plate and structure of the catamaran hull is not less than 150mm.
要求
总蓄电量大于200kWh的电池,应安装在电池舱内或露天甲板上的电池箱(柜)内。
对于船长小于或等于20m的船舶,任何蓄电池快速维护的最小可拆卸单元重量应小于或等于130kg。
推进电池在舱内布置时,至少应分别布置在两个专用舱内。
电池箱(柜)或电池组与舱壁及上甲板的净距离不应小于150mm,舱壁与上甲板加强结构的净距离不应
小于100mm。
电池箱(柜)、电池组到船体外壳和结构的最小水平距离不小于300mm,到双体船体内板和结构的最小
水平距离不小于150mm .
Ship Data Monitoring
This project fully draws on the design experience of the power system of the first large-scale
all-electric cruise ship "Junlv" in China. On the premise of meeting the specifications, the
research on the key safety monitoring parameters of pure electric yachts is carried out
according to the technical characteristics and layout characteristics of the yacht. It also
provides more data monitoring options and channels for maritime regulatory authorities and
ship owners.
船舶数据监控
该项目充分借鉴了我国第一艘大型纯电动邮轮"骏旅"动力系统的设计经验。在满足规范的前提下,根据
游艇的技术特点和布局特点,对纯电动游艇的关键安全监测参数进行了研究。它还为海事监管机构和船
东提供了更多的数据监控选项和渠道。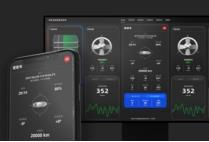 High reliability battery power integration system
1, The battery packs are independent of each other, any battery failure will not affect the
normal operation of other battery packs.
In the thermal runaway state of any one battery cell or one battery module in the battery
pack, it will not cause thermal runaway of the battery system.
The ship adopts the DC power distribution electric propulsion system, there is no problem
of frequency and phase matching, and the energy utilization efficiency is improved.
Realize the selective protection of DC grid short-circuit current through DC fast fuses, which
can ensure the continuous power supply of the ship grid when short-circuited at any position
(not the DC busbar).
The inverter power supply outputs high-quality AC power, which can meet the
requirements of impact loads.
6, The propulsion inverter has a low voltage fault ride-through function. The propulsion
inverter will not shut down when the DC grid voltage dips for a short time.
A special charging device is equipped for the power battery system to ensure the stability
of charging.
高可靠性电池电源集成系统
1、电池组相互独立,任何一个电池组出现故障都不会影响其他电池组的正常工作。
2、电池组中任一单体电池或电池模组处于热失控状态时,不会引起电池系统的热失控。
3、船舶采用直流配电电力推进系统,不存在频率和相位匹配问题,提高了能源利用效率。
4、通过直流快速熔断器实现对直流电网短路电流的选择性保护,在任意位置(非直流母线)发生短路
时,都能保证船舶电网的持续供电。
5、逆变电源输出优质交流电,能满足冲击负载的要求。
6、推进逆变器具有低电压故障穿越功能。直流电网电压短时间下降时,推进逆变器不会关闭。
7、动力电池系统配备专用充电装置,确保充电稳定性。
Ship Design
The hull is a 62-foot catamaran. Compared with the V-bottom monohull with the same length,
the stability is better than that of a V-bottom monohull. It has the characteristics of small
draft and low power propulsion resistance.
船舶设计
船体是一艘 62 英尺的双体船。与相同长度的V底单体船相比,稳定性优于V底单体船。具有吃水小、动
力推进阻力小的特点。
Pod Thruster
It allows the ship to realize 360-degree steering and movement without dead angle. While
improving the manoeuvrability of the ship, it can be driven remotely and laterally (to facilitate
docking of the ship) and has an electronic anchoring function. The boat can be equipped with
multi-point thruster as an option.
吊舱推进器
使船舶实现360度无死角转向和移动。在提高船舶机动性的同时,可远程横向驾驶(便于船舶靠泊),
并具有电子抛锚功能。作为一种选择,该船可以配备多点推进器。

Environmental Benefits
The pure electric yacht developed in this project can completely realize zero emission during sailing. According
to estimates, considering that Phuket Province has more than 300 sunny days throughout the year, the daily
power consumption is about 1600kWh, and the annual consumption of diesel oil can be reduced by about 70
tons, and the annual carbon dioxide emission can be reduced by more than 200 tons.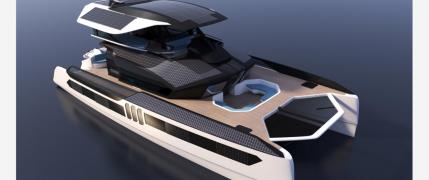 Improved Regulations
Through this project, we have accumulated experience in the design, construction, configuration of related
supporting equipment and yacht inspection in the field of pure electric yachts, and through later operations, we
will lay a solid foundation for the development of pure electric yachts in my country and the formulation of
technical inspection standards and provide practical reference and suggestions for improving regulations.
Smart Supervision
With the development of pure electric yachts and the increase in the number of pure electric yachts, a pure
electric yacht operation supervision platform can be built in the future, which can be connected to all pure
electric yachts in Phuket Province, and the battery power system and related systems of pure electric yachts
operating in Phuket Province Realize safety supervision and ensure the safe and high-quality development of
the yacht industry in Phuket Province., Thailand.
Disclaimer
The Company offers the details of this vessel in good faith but cannot guarantee or warrant the accuracy of this information nor warrant
the condition of the vessel. A buyer should instruct his agents, or his surveyors, to investigate such details as the buyer desires validated.
This vessel is offered subject to prior sale, price change, or withdrawal without notice.