NOVA NAUTICAL Experiential Journey with Sail Malaysia & Tourism Promotion Board of Johore dated 22nd November, 2022.
Nova Nautical Experiential Journey with Pangkor International Marine Tourism Conference 2022 (9th – 12th May 2022)
New Range Rodman Ventura 13 September, 2022
Rodman will be launching at the forthcoming international boat shows a new range of outboard boats, with lengths ranging from 6 to 8 metres, which will be available in different deck versions: Open with Central Console, Open with forward cabin and Hard Top versions.
From the very beginning of this project, Rodman has set its goal to design and build a new range that meets the needs and expectations of all those who seek when sailing a new leisure alternative, a new way to enjoy the sea in the company of family and friends, a new way to live unique moments and experiences.
This new range has been conceived to suit all target customer segments, from a younger customer looking for sportiness and functionality to more experienced or traditional customers who prioritise comfort and safety.
Rodman Ventura satisfies the desire of enjoying the sea in the open air, the sun, family and friends, to experience unique moments on board.
Rodman is about to celebrate its 50th Anniversary and for the first time ventures into this segment of the pleasure boat market, with the aim of bringing the sea and its enjoyment to a greater number of people on all the world's seas.
The first model of this range to be introduced will be the new Rodman 690 Ventura CC. A boat of 6.5 m in hull length and 7.7 m in overall length, 2.55 m in beam and ready for the installation of an outboard engine of up to 200 HP in power, reaching a maximum speed of almost 40 knots.
Her deck configuration offers two exterior spaces, completely different, to enjoy the sun and moments of relaxation on board. In the aft cockpit, there is the possibility of having a rear seat, which can be completed with a side module and a table. There is also the option of covering this area with an extendable bimini type sun canopy.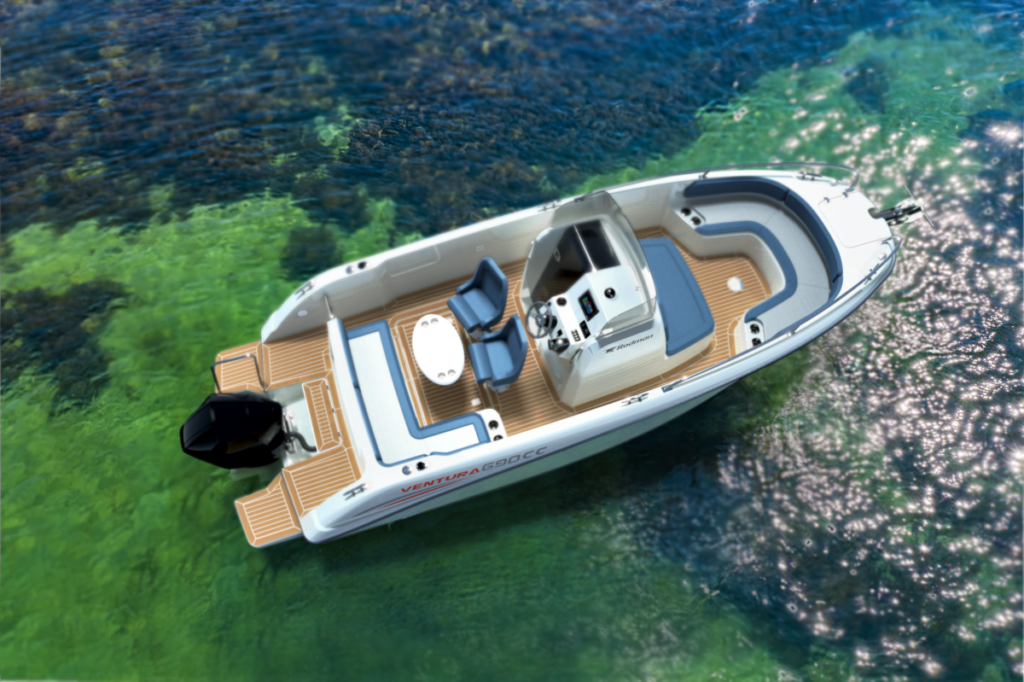 Forward, this new model also offers a seating area, which can be equipped with cushions and seats, another table and the possibility of turning the entire surface into a solarium. This area can also be covered with a fixed sun canopy.
Safe and comfortable movement between the two areas is guaranteed by wide, identical lateral passageways on both sides, one of the hallmarks of all Rodman boats.
This new model is completed by a comfortable console interior, with comfortable access and wide stowage space with the possibility of fitting a chemical toilet.
The new Rodman 690 Ventura CC is the perfect option to enjoy an affordable day boat, with the maximum comfort, best features and excellent navigation, characteristics of all Rodman boats.
After the launch of this new model at the forthcoming international boat shows in Southampton, La Rochelle and Barcelona, Rodman is already working on the presentation of new models and versions of this new range, which will be exhibited at the Paris and Düsseldorf shows.
Nova Nautical expands its activity to Singapore 16 March, 2022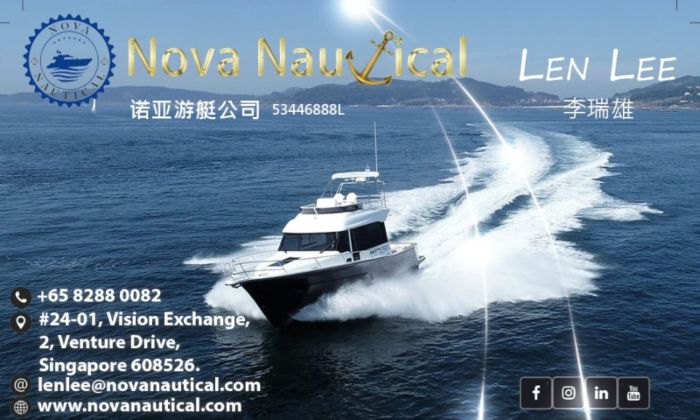 Rodman is pleased to announce that Nova Nautical, our authorized dealer in Malaysia, is expanding its range of operation by officially establishing in Singapore.
With this new member of Rodman's international sales network, the brand moves forward in its growth throughout Southeast Asia, adding a promising market such as Singapore.
Nova Nautical's premises are located in the Iskandar Puteri region, one of the most prominent sailing areas in southern Malaysia, thanks to its proximity to Singapore and Indonesia.
The dealership agreement with Nova Nautical started in 2018 and we expect it to continue for a long period of time. No doubt, opening up to new countries hand in hand with a company that understands the Asian market very well will be positive for both parties.
For the promotion and representation of the Rodman brand and its leisure boats in Singapore, Nova Nautical will be offering:
Rodman
Rodman Spirit
Rodman Muse
For further information, please refer to Rodman's website.
NOVA NAUTICAL, NEW RODMAN DEALER IN SINGAPORE & MALAYSIA 2018
As from March 2018, Rodman has reached an Agreement with Nova Nautical Sdn Bhd, to represent all ranges of Rodman leisure boats in Singapore and Malaysia
The Spanish motor yachts builder Rodman, one of the European leaders in shipbuilding, has appointed Nova Nautical, as its exclusive dealer in Singapore and Malaysia. With this Agreement, Rodman is aiming to develop its representation in the South East Asia countries in near future.
Nova Nautical, established in 2016 by its current founder Mr. Len Lee. During these years they have achieved as one of the well-known boating business in this area. The key factor is due to the diversity of products and services offered to the customer, with the utmost standard of quality and service. They represent other well-known brands such as Novatec Yacht, Crownline Boats, Misty Harbor and Pontoon Boats and they are also committed to customer's Total Ownership Experience, backed by manufacturer's direct warranty.
Nova Nautical facilities are located in Iskandar Puteri Region, one of the most prominent areas for boating in the Southern Region of Malaysia, because of its proximity to Singapore, Indonesia and Thailand.
Nova Nautical's Nova-Cruise service will soon be launched and customised to the overseas tourists visiting around Iskandar Puteri Region, experiencing the Eco-Tourism Culture of Malaysia and other specialty boating activities, along the Straits of Johor.
From this month onwards, Nova Nautical, will be responsible for Rodman's entire leisure boat range :
*Rodman MUSE, flybridge yachts from 13m-23m (44ft-74ft): Rodman MUSE 44. Rodman MUSE 50, Rodman MUSE 54 and Rodman MUSE 74
*Rodman SPIRIT, cruisers and day cruisers from 9m-13m (31ft-42ft): Rodman SPIRIT 31 HT (OB & IB), Rodman SPIRIT 31 Open (OB & IB) and Rodman SPIRIT 42 Fly and Rodman SPIRIT 42 Coupé
*Rodman Fisher & Cruiser Series, traditional "pêche-promenade" boats from 8m-13m (26ft-42ft): Rodman 810, Rodman 870, Rodman 890 Ventura, Rodman 940, Rodman 1040, Rodman 1170 and Rodman 1250.
New Rodman SPIRIT 42 Coupé
Fulvio de Simoni's design studio together with Rodman's technical team have combined to perfection their expertise and experience, gained in previous collaborations, in the design and building of this model.
From her launching, the Rodman SPIRIT 42 has become a reference model within the flybridge cruise boats range, up to 12 m. in length.
In this case, Rodman launches a new coupé version of this model, thus entering into this new range of crafts, so booming nowadays.
NEW RODMAN 33 OFFSHORE: PERFECT BALANCE AMONG EXPERIENCE, KNOW-HOW AND INNOVATION
We continue to present our latest launches. It is now the turn of the long-awaited Rodman 33 Offshore, a new concept craft, inheriting all the differential attributes of the Rodman crafts: strength, seaworthiness, building quality, functionality and great performance suitable for the requirements of this type of boat. Would you like to know everything it has to offer? Get on board!
New Rodman 33 Offshore is an open boat, central console style, combining to perfection all its experience in building high speed professional boats and its knowledge in design and building leisure crafts and fisher-cruiser boats.
The technical and development teams in Rodman have managed to perfectly combine the know-how of the Shipyard, its experience and building quality with the design elements necessary for the conception of a new model as well as maintaining the Rodman attributes. This new model is launched as a very competitive and complete option within the 10-11 m. length range of outboard boats, with central console and open type.
The result, the new Rodman 33 Offshore range is a balanced and complete boat, capable of reaching more than 45 knot with the security and comfort typical to the boats Rodman provides.
A versatile craft, conceived for a wide variety of customers, by her own conception, by its own space definition and different options available that allow the boat to be configured according to the main features required by the Owner.
The new Rodman 33 Offshore will become the best choice for those who are looking for an affordable alternative but without compromising the quality and prestige of the Rodman boats.
Technical Specification: The design lines combine high performances with a high comfort level ongoing and the best seakeeping, all of this characteristic values of RODMAN boats.
The deadrise angle of 23º at the aft (30º at amidships), as well as the longitudinal position of the buoyancy center have been optimized to minimize the pressure and friction resistance at the usual speed ranges. The spray rails arrangement contributes to a perfect lift and stability, not to mention to maintain the main deck dry.
Hull, main deck and superstructure will be produced with composite materials, all built mainly with E-glass multiaxial fiber, laminated with polyester resin, approved to be used in marine applications.
Our development team, meticulously analyzes all materials and parts ensuring that it meets the highest standards in navigation. In fact, all our boats have a 5-year guarantee against osmosis.
Definitely, a high speed boat, with wide and comfortable spaces outside, to enjoy navigation and a with comfortable spaces inside, including independent toilet and cabin, to ease stay on board.
No doubt, this is a different boat: functional and comfortable at the same time, powerful and strong, capable of providing excellent seaworthiness and high speed.
What do you think of the new Rodman 33 Offshore? We look forward to hearing from you. And if you want to see more news as well as all our proposals both in leisure boats and patrol boats and special crafts.
2019 LAUNCHING: NEW RODMAN 1040 EVOLUTION
Rodman will present at the end of the following month of May, its new Rodman 1040 Evolution, a boat which has been completely renovated in its line and style, but maintains all the strength and personality of its former model.
The renewal of this model marks the start of a complete renovation of its most authentic, genuine and traditional range: The Rodman range of Fisher & Cruiser boats.
The new Rodman 1040 Evolution: a renewed model which marks the start of a new phase in the range of Rodman crafts.
Rodman's technical and development teams, jointly with the Naval Design and Architecture firm, Barcelona Yacht Design, have known how to perfectly combine the ship yards know-how, its experience and its ship building quality, with the most innovating elements of design and decor.
The result, a New Rodman 1040 Evolution, which represents a perfect balance between past and present, where one of the most iconic models of the Rodman Fisher & Cruiser range, is completely renewed, and maintains all the key features of the Rodman brand with more innovating aspects with regards to design and functionality.
A versatile boat, aimed at an ample variety of the public, which will be presented in two versions, Hard Top or Flybridge, both of which can be tailored and personalized to suit each owners requirements and needs.
The new Rodman 1040 Evolution, will become the best choice, for those owners looking for a sailing boat, safe, reliable, authentic and with a modern finish, comfortable and functional.
The most emblematic models from the Rodman range Fisher & Cruiser will be presented next spring completely renovated, following the new Rodman 1040 Evolution line and strengthening its position as the leading range of Rodman boats, within the international market and the fisher-cruiser segment.
NEW RODMAN 1090 EVOLUTION: A MODEL REPRESENTING THE BEGINNING OF A NEW STAGE IN THE RODMAN RANGE OF BOATS.
Since the origin of our Group in 1974, we have focused all our efforts on seeking of excellence, building reliable, durable boats that meet the requirements of our customers. Now, we are taking a step further with our new Rodman 1090 Evolution. We are certain that it shall represent a change in our classic range of pleasure crafts. Would you like to know all about it? Get on board and we will show you.
The Technical and Development team in Rodman, together with the naval design and architecture studio, Barcelona Yacht Design, have perfectly combined the Shipyard's know-how, experience and building quality with the most innovative design and decoration elements.
The result, the New Rodman 1090 Evolution, represents the perfect balance between the past and present, where the key features of the Rodman brand are present and added to more innovative design and functionality aspects.
A versatile boat, aimed to a wide variety of customers that shall be released in two versions, Hard Top and Flybridge, both customizable to the use and requirements the Owner may desire.
The new Rodman 1090 Evolution reaches a maximum speed of 31 knots.
The hull design of the Rodman 1090, extremely reliable during navigation, is based on the extensive experience, both in tank and full-scale tests. The shapes combine high levels of performance and comfort together with the typical seaworthiness of our boats.
In terms of design, the longitudinal position of the hull centre has been optimised to minimise pressure and friction resistance in the usual speed ranges. The hull, deck and superstructure of the boat are built in composite materials consisting mainly of E-glass fibre fabrics, laminated with polyester resin type approved for marine use.
Also, she is provided with the Volvo Penta 300-1050 interceptor system technology that allows a safer and more comfortable navigation while reducing the consumption of the boat and thus reducing the environmental impact. It can be provided in two versions, manual or automatic.
Concerning interior configuration, this boat has a spacious owner's cabin, well equipped with many small details included. The guest's cabin, displays two beds in L configuration. On top of that, the boat has independent toilet, galley and dinette with all the things the owner needs on board, to make the most of his moments at sea.
The new Rodman 1090 Evolution shall become the best choice for those Owners seeking for a seaworthy boat, safe and reliable, authentic and provided with modern lines, comfortable and functional.
Starting next season, the most emblematic models of the Fisher-Cruiser Rodman range shall be released, completely renovated and following the path traced by the new Rodman 1090 Evolution and reinforcing the leadership of this Rodman range, in the international market and within the fishing-cruiser segment.
By the end of this year, a new version of her most affordable model, the new Rodman 890 Ventura shall be launched and by the end of next spring, the new Rodman 1290 Evolution shall be introduced, based on the lines from the iconic fishing boat model Rodman 1250
We shall keep you informed on the coming new developments. All of them represent a stylish change in the Rodman range, while maintaining the spirit of our predecessor models.
What do you think of our Rodman 1090? We look forward to hearing from you. And if you want to see other proposals.
THIS IS HOW WE WORK IN RODMAN: QUALITY, CUSTOMIZATION AND INNOVATION SET OUR COURSE.
Have you ever wondered what is our quality control system? Or what are the certifications that endorse our brand and Rodman boats? In this new post, we introduce you to our Quality Department, with the assistance of our Quality Manager, Pitusa Vaquero, so that you can learn in detail what their goals and processes are. Do not miss any detail. From Rodman, we open our doors for you…
Tell us how you started your career at Rodman. What motivates you most in your job?
I started working in Rodman 23 years ago. I could not live without the sea close to me and I have always liked boats. I consider myself a lucky person as I have been able to develop my professional career in this sector and because I still enjoy my job after such a long time. When we are developing a new product, things can get a bit rough, there is a great deal of pressure but all this is forgotten when we look at the final result, firstly when sailing at full performance during the sea trial at the bay waters and finally, when satisfactorily fulfilling the purpose she was designed for, in the hands of her Owner.
What is your mission and commitment as Quality Department?
Our function and main task is to coordinate and promote a constant improvement of the processes and the final product. One of our objectives is to help in the definition of standardized and documented processes to enable the establishment of work procedures aimed to the correction of deviations arising in the different stages of the definition and building of any craft. We are responsible for ensuring compliance with the Quality and Environmental policy of the Company, i.e. we guarantee that the boats built by Rodman fulfil the defined requirements and characteristics and that these reach the final customer in perfect condition and, at the same time, we ensure that all legal requirements in environmental issues are properly met.
Please, tell us, from your point of view what are the major strengths of this area of action.
I would highlight the people I work with, no doubt they are the major strength. At this point, we should also include, apart from the human team, the experience, the know-how and the knowledge acquired for more than 46 years in the manufacturing of boats in glass reinforced polyester and other composite materials. This is what provides us the strength to be able to adapt to the customers' requirements, considering the versatility we offer. Note that we manufacture all type of crafts: from small leisure boats to 42 m. high speed patrol boats, including passenger catamarans of 35 m. in length. This versatility is a consequence of the way we accomplish our tasks and of the application of a methodology to all we perform and thereby ensuring the final result.
What is the Quality Management System?
A quality management system is based on the principle of continuous improvement. The system is certified under the international standards and the final goal is to provide the Customer with services or products of the defined quality standard. For many years, Rodman has been granted certifications and our quality management system has been changing and improving over time. One of the main benefits provided has been the fact that we work in a systematic and orderly manner with defined and documented processes. This approach ultimately results in the quality of the boats we build.
Taking into consideration that one of the goals is to achieve robust and durable boats, what are the tests which the materials undergo to check their composition reliability?
In the manufacturing of boats in composite materials, it is essential to guarantee that the material is correctly transformed in all phases of the process, from the reception of raw materials to the final assembly. Therefore, the first I would highlight is the advantage for all Rodman boats of having our own test laboratory.
All the raw materials to be used in the manufacture of the different pieces of composite materials that makes up our boats are previously certified by the laboratory. As a first requirement, we demand our suppliers of gel coat, resin, fibre a PVC foams, etc, to have available recognised certificates to guarantee that the material provided is for naval use.
By random sampling we perform test for all the raw material batches we receive, before its use in the factory. We define the manufacturing parameters and their controls. We also carry out tests of our structures in the laboratory where we validate the mechanical properties of the material. We want to make sure that the material designed by our technical department has been manufactured in strict compliance with the design requirements.
The Rodman Boats are known for their great durability. Of all the warranties offered by Rodman, which, in your opinion, are the most outstanding?
Undoubtedly our structural and anti-osmosis warranty. This is the result of the way we accomplish our work, we are certain of how we manufacture our laminates, how we build our crafts and this allow us to provide our customer with an extensive commercial warranty which in the case of leisure crafts is 10 years against any structural damage to the hull and 5 years against damages by osmosis.
Currently, what certifications endorse the Rodman Group and what does each certification mean?
Rodman holds the most recognised certifications, both nationally and internationally, such as the ISO 9001 Quality Assurance Certification since 1999, ISP 14001 Environmental Management Certification since 2000 and the PECAL 2110 Quality System Certification by the Spanish Ministry of Defence since 2001. We are part of the register of companies approved by the Ministry of Defence and we are approved suppliers for Navantia. All these certifications are revalidated every year by means of audits.
The compliance with these standards allow us to guarantee that our processes are defined and documented to be able to regularly provide all type of boats to satisfy all the customer's provisions and applicable legal and regulatory requirements. The PECAL standard also specifies the NATO requirements for Quality Management that any supplier should meet to ensure quality in Defence contracts.
Anything else you would like to add…?
I hope that all the people who are part of Rodman continue improving and learning every day in what we do and that this will allow us to continue moving forward to offer our current and future customers, increasingly innovative boats with even greater performance.
What did you think? Would you like to get to know better any other area of our company? Do not hesitate to ask about it in the comments section…
Oh, and remember, follow us on our social media to know more about all our boats, events, and latest news
LATEST BOATS READY TO SAIL
The last few months of work have been, like the situation we have all been through, somewhat peculiar, but it is time to return to the sea and do everything we have wished for in the months we have been at home. With the arrival of summer, this month's post, we have decided to focus on the boats that we have ready to deliver right now, so that you can sail, so that you can enjoy one of the most wonderful times of the year with your loved ones.
So, we will make a small description of our boats ready to sail. Will you sail with us?
We consider the new Rodman 1090 Evolution to be this season's great launch. The Rodman 1090 Evolution is a versatile boat with a high level of detail and quality, which is available in two versions: Hard Top and Flybridge; setting the stage for the renewal of a whole range.
She is a boat that reaches a maximum speed of 31 knots, highly customizable, perfect for those owners who are looking for a seaworthy boat, reliable, authentic and modern lines.
Undoubtedly, she represents an optimum balance between the past and the present, where the key attributes of the Rodman brand are maintained and added to more innovative aspects in terms of design and functionality.
The new Rodman 33 Offshore combines our brand's high-speed boat building experience with the design of a leisure and sport fishing boat.
Capable of reaching 45 knots maximum speed and like all our boats, she has a highly customizable design.
This boat is designed for a wide range of people due to the definition of her spaces, her equipment and different options, but it will undoubtedly become the best option for those who are looking for a quality alternative, maximum performance and at an affordable price.
A very comprehensive option, in the segment of the 10-11 meter open outboard centre console type.
This new version of the Rodman 890 Ventura is a boat with years of experience in which her design lines have been subtly renewed. Large windows allow a great deal of light to enter the interior and perfectly combine the differential attributes of our brand with a compact size and easy navigation.
RODMAN SPIRIT: OTHER BOATS TO GET ENTHUSIASTIC ABOUT
The Rodman Spirit range was created with the aim of meeting the needs of those who wish to enjoy their leisure time sailing; at the same time it aims to bring the sea and life on board closer to those who have never seen it before. A range to rediscover the sea.
Rodman Spirit is the perfect choice for those looking for a boat with her own personality, unique style and affordable to discover the sea for the first time or rediscover it again.
Discovering and living new moments and experiences on board is something innate to the Rodman Spirit 31. When at anchor, she provides top comfort to enjoy with greater ease. Spending your leisure time with your family, friends or on your own shall become your aim.
Versatility is the main feature of this boat, which offers two versions: Rodman Spirit 31 Hard Top and Rodman Spirit 31 Open. Within each of these models, we find different engine options, either outboard or inboard.
In this last season the model adds new design elements, as well as large windows on the hull and an excellent configuration of different environments that will allow you to personalize your enjoyment to the maximum.
Within the length and cruiser segment, the Rodman Spirit 42 is one of the most balanced and complete models.
A boat that is addressed to a wide range of public, by the very conception of the model, and by the configuration possibilities she offers.
The Rodman Spirit 42 Fly is a very balanced boat, where the rationality of the spaces stands out when compared to other similar boats in this length segment. Both inside and outside, the owner can configure different characteristics to adapt the boat to his or her needs.
The Rodman Spirit 42 Coupé is a unique, innovative, functional and comfortable boat that is at the same time robust, powerful and with an excellent seaworthiness.
What do you think of this brief survey of some of our boats? Take the opportunity to get your hands on one of our ready to sail boats and enjoy it this summer.
If you want to learn more about them, you can download our brochure or browse our social networks. We are on Facebook, Twitter, Linkedin, Instagram and Youtube. Or contact us directly.
We will help you in everything you need to enjoy this summer to the fullest.
DOING OUR BIT DURING IN THE CORONAVIRUS CRISIS
This is somehow a different post. The current situation due to the coronavirus crisis has forced us to reinvent ourselves and this is what we have done in Rodman.
As soon as we were forced to stop working in our main activity and being aware that the situation was worsening due to the lack of protection material for health professionals, in particular, we set out to work to do our bit and thus to keep on "fighting" against the coronavirus.
Although we are miles away, but pretty much close, we started this new journey. We knew that we wanted to offer our help to the health professionals and with this purpose, our workers voluntarily started to manufacture protection coats to be donated to the Galician Health Service (Sergas) in our facilities, with the plastic material already available in our warehouses and other donated materials which are currently used in industrial processes of vacuum lamination. In this way we proceeded with the initiatives launched by some of our collaborators, such as Mel Composites in Barcelona.
From the very beginning, we were supported by other organizations such as some dairy products cooperatives and agricultural companies led by CLUN that joined in to donate materials. Also we received another donation of plastic material to manufacture protective coats from Ageo (Galician Association of Operating Companies); our transport company Grupo Aitsa Otero was added and volunteered to make the deliveries of material and in our second shipment, we managed to deliver 1,000 protective coats and 200 caps made of plastic donated by AGEO, ABIGA, GRUPO COMAR and LUCKIA. In this last shipment, TNT-FEDEX also joined forces to deliver these coats to the Health professionals in solidarity.
Likewise, the Sergas supported us in this initiative in view of the need to increase the protection of our Galician health professionals, also called "our super heroes". Therefore we engaged in taking this "support" provided from the Xunta and the Government Delegation in Galicia, and accomplish this donation and we also recognize the work carried out by the institutions and the health professionals to contain the spread of the pandemic.
During these past two weeks, no boats left our Shipyard, but with more enthusiasm than ever, we arranged two shipments of plastic coats and protective caps, lovingly made by our volunteer workers for our health professionals. In this third week, we have already started with the productive activity again, but our volunteers will also continue making more protective material for the health professionals.
We would like to thank and acknowledge the effort of all our workers who voluntarily, with their sacrifice and commitment, have made and continue to make the protective coats and caps with enthusiasm; our collaborators, our health professionals and all the people who every day do their bit to stop this situation as soon as possible.
Remember to follow us on our social networks for the latest news and updates. We're waiting for you! Facebook, Linkedin, Twitter, Instagram!
RODMAN AND THE ENVIROMENTAL SUSTAINABILITY
Those who have lived tough situations at sea know that in the end, the tempest passes and everything returns to normal, we shall manage to weather the storm.
We are sure that the current situation we are facing due to the coronavirus shall be overcome sooner or later and things shall return to normal. We do not know for sure how long this "storm" shall last but we do know that we shall get through it.
In this month's post, we would like to talk to you about Rodman and the environmental sustainability. The present model of global growth is jeopardizing the physical limits of the planet. The exhaustion of the natural resources, the increase in energy demand and the changes in the chemical composition of the atmosphere are causing great imbalances in the environment, threatening the development of future generations.
In this context, both the incorporation of processes reducing the massive consumption of raw materials and non-renewable energies and the development of new technologies that promote the efficient management of resources, the use of clean energy and the reduction of CO2 emissions into atmosphere seem quite necessary.
Rodman, since its origins in 1974, has always been committed to its natural environment, basing its business model on finding technological and innovative solutions for the manufacture of its products and contribute to sustainable development, being respectful and caring for the environment, searching for alternative production processes to enable manufacturing by making the best use of the natural resources and diminishing its impact.
In 1999, Rodman established its policy on environmental and energy saving aspects, being one of the leading companies in Spain within its sector of activity. In 2000, Rodman implemented its Environmental Management System according to the ISO 14001 international standard. Since then, and year after year, environmental objectives have been implemented, through which the company has managed to reduce the consumption of natural resources, waste and the emission of harmful gases into the atmosphere.
In the year 2007, the company took a step forward in its commitment and set itself the goal of obtaining the "Integrated Environmental Authorization (IEA) with the purpose of protecting the environment as a whole, applying the principles of prevention and applying the principles of environmental prevention and control in an integrated manner.
It is then, in 2008 when the Authority concerned provided us with this authorization which among other measures requires us to implement good practices and monitoring and control plans for the management of air, water, noise, waste, soil, atmosphere, etc. in connection with the legislation in effect.
The Company has always considered that the most efficient way to maintain its commitment to the environment is by means of the integration in all the areas and at all levels. This is the reason why in 2017 and Integrated Management System (IMS) has been set as an objective, where environmental management is undertaken in an integrated fashion with quality and labour safety management.
The advantages are clear: each of the rules for the different systems has common management principles so an integrated system enables the simplification of the required documentation, thus increasing efficiency. In this way, each time a process is modified, its global impact is assessed, and not just from a simple perspective but ensuring that the improvement in one aspect does not harm the others.
Our management in terms of responsible water consumption is the following: production processes requiring water consumption are not carried out, only the final watering of the crafts prior to their deliveries to the final customers require water. In order to improve and reduce this consumption, we implement management programs and measures to enable an efficient consumption control.
In terms of energy saving, Rodman seeks the improvement of its production processes, making them more efficient, economic and sustainable.
Regarding volatile organic compounds (VOC) emissions, Rodman reduced by 50% its total emissions from 2005 to 2019, and we keep on working on this.
In order to reduce solid waste, both hazardous and non-hazardous, we carry out segregation, reduction, classification, valuation and recycling practices. Accordingly, we have managed to reduce the quantities of waste and increase recycling and valuation.
Finally, Rodman believes that it is essential that everyone who is part of the company's team understands that every small act is very positive for the environment. For this reason, Rodman provides, in yearly basis, training through seminars on general aspects and more specialized courses on specific issues. Also, talks on environmental awareness are held, using all its internal communication resources to train and inform the team on environmental issues.
We are a company committed to the environment and the future, seeking to set sustainable practices and processes to help reducing waste generation and environmental pollution.
We believe that our actions help to improve the environment, reducing the environmental impact of our business activity.
We strongly embrace sustainable development and environmental protection so we do our best to reduce any negative impact of our operations on the environment.
To conclude, we would like to send a message of encouragement and to remind you of the importance, especially during the current situation, of taking care of the environment and the work space. We are here, working and hoping this shall end soon. And then, we shall welcome you with our wide open arms.
PARTICIPATION OF NOVA NAUTICAL IN SINGAPORE YACHT SHOW 6- 9 April 2017
BUISINESS COLLABRATION BETWEEN NOVA NAUTICAL & KABE YACHTS 12-15April 2018
Kabe – Yachts team emerged from a long-term marine & shipbuilding experience of design office which has over 30 years of history in a marine sector KABE Ingenieurbüro GmbH.
KABE-YACHTS is our especially dedicated team of engineers and designers. They have vast experience in superyachts designing, starting from conceptual design, through modern calculation methods and finishing with a perfect workshop documentation delivered to shipyards.
THE LAUNCHING OF NOVA CRUISE September 2018
NOVA CRUISE aims to be an innovative & creative eco-travel lifestyle service provider in the Malaysia tourism industry.
NOVA CRUISE is working towards an excellent customer service orientation and will extend the collaboration with hotel management, airbnb and tour agency.
NOVA CRUISE + MY PONTOON BOAT YOUR PLATFORM experienced with
SeaKeepers Society Collaboration in Puteri Harbour 2018
STYLO Gentlemen's Weekend 26 to 28 October, 2018.
Jointly organised by STYLO International, Malaysia Fashion Week (MFW) as well as the Maritime International Showcase Malaysia (MISM) as its partners, the STYLO Gentlemen's Weekend which will be taking place from 4.00 pm to 12.00 am is set to transform Puteri Harbour into a playground for men and the perfect business networking platform for dealers, brokerage and manufacturers of these big boys' toys.
The three-day 26th -28th of October, 2018 free admissions event promises runway presentations, vintage automobiles, and a dazzling red carpet showcase along with numerous attractions for the public. Visitors can look forward to the 15 minute cruising of NOVA CRUISE + My Pontoon Boat Your Platform experience in Puteri Harbour Marina @ Iskandar Puteri.
CHINA RENDEZ-VOUS Hainan Sanya 7-10 December 2018
NOVA NAUTICAL PARTICIPTION ONLINE BOAT SHOW ASIA October 2020 / 2021

Showcase of:
Rodman Muse 54 (2016 Demo Unit) Rodman Offshore 33 (2019) Rodman Spirit 31 OB (2021)
Rodman Ventura 890 (2018 Demo Unit)
Gottsegen 70 Flybridge (2021) Gottsegen 47 Coupe (2021)
Misty Harbor E1875 CR (2016)